Bulldog Courage
After being driven to corruption by a crooked banker, a man strikes back as his tormentors.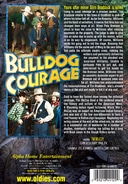 SALE:
$

5

.95
List Price:
$7.98
You Save:
$2.03 (25% Off)
Available:
Usually ships in 1-3 business days
Also released as:
More products that might interest you:
Classic Western Collection: 20 Full Color Vintage Movie Postcards (Movie Collectible)
$9.98
DVD Features:
Rated: Not Rated
Run Time: 1 hours, 4 minutes
Video: Black & White
Released: November 22, 2005
Originally Released: 1935
Label: Alpha Video
Encoding: Region 0 (Worldwide)
Packaging: Keep Case
Aspect Ratio: Full Frame - 1.33
Performers, Cast and Crew:
Entertainment Reviews:
Description by OLDIES.com:
Years after miner Slim Braddock is killed trying to exact revenge on a crooked banker, Tim Braddock returns to the town of Goldfield to pick up where his father left off. As for the financier, Williams and his band of swindlers, it seems that time has not changed their ways at all. Miner Pete Brennan is about to lose his mine to Williams after missing payments on the property. The judge is able to give him an extra day to come up with the money, which is on its way by stagecoach. Of course, Williams sends his gang out to rob the stage. Knowing that Williams did the same sort of thing to his own father, Tim pulls the ultimate double cross, robbing the robbers and personally delivering the payment to the shocked and surprised Williams. Unable to persuade Pete to sell out, and determined to get his hands on the Brennan mine, Williams hires an eccentric dynamite expert to put Brennan out of business once and for all. Williams has underestimated the resourcefulness of Tim Braddock, who's already aware of the plot and ready to foil it at any cost.
Said to have the fastest draw among the celluloid cowboys, Tim McCoy lived a life centered around the history and culture of the American West. A Wyoming Indian Agent following World War I, McCoy was an expert on American Indian history, and was one of the few non-tribesmen to have a real fluency in Native sign language. Beginning his acting career at the end of the silent era, he starred in a successful run of westerns for a number of studios, eventually sharing top billing for a time with Buck Jones in the Rough Riders series.
Product Description:
Tim loses his gold mine to a scheming banker and retaliates by stealing gold shipments from stagecoaches until he's wounded by a posse. Later, his son (Tim again) returns seeking vengeance.
Keywords:
Movie Lovers' Ratings & Reviews:
Customer Rating:
Based on 139 ratings.

tim mccoy at one of his best roles
Movie Lover:
johnny mcfall
from
PHOENIX, AZ US
-- August, 21, 2013
tim McCoy is at one of his best roles his part backed up by paul fix makes this one of his best
Great Old-Time Western
Movie Lover:
AL DITTRICH
from
Commack, NY US
-- December, 21, 2005
Tim McCoy had attitude and charisma that helped set the stage for B-Westerns. This DVD finds him at his best, with his neat dressing, and steely stares that make any bad guy shudder. A good plot line holds this film together well, as Tim sets out to avenge the death of his father at the hands of a corrupt gang.
Similar Products
Product Info
Sales Rank: 23,299
UPC: 089218491299
Shipping Weight: 0.25/lbs (approx)
International Shipping: 1 item