Smith Ballew Double Feature: Panamint's Bad Man (1938) / Western Gold (1937)
Cowboy hero Smith Bellew stars in two rare tales of the West.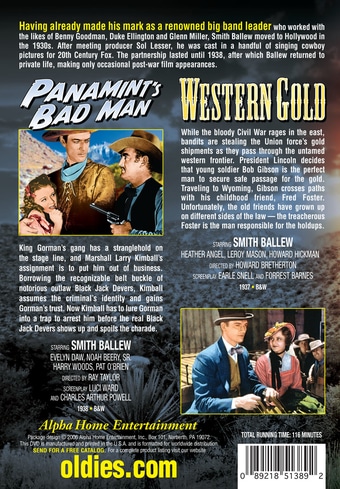 SALE:
$

5

.95
List Price:
$7.98
You Save:
$2.03 (25% Off)
Available:
Usually ships in 1-3 business days
More products that might interest you:
Classic Western Collection: 20 Full Color Vintage Movie Postcards (Movie Collectible)
$9.98
Related products:
DVD Features:
Rated: Not Rated
Run Time: 1 hours, 56 minutes
Video: Black & White
Released: August 22, 2006
Originally Released: 1937
Label: Alpha Video
Encoding: Region 0 (Worldwide)
Packaging: Keep Case
Aspect Ratio: Full Frame - 1.33
Performers, Cast and Crew:
Entertainment Reviews:
Description by OLDIES.com:
Having already made his mark as a renowned big band leader who worked with the likes of Benny Goodman, Duke Ellington and Glenn Miller, Smith Ballew moved to Hollywood in the 1930s. After meeting producer Sol Lesser, he was cast in a handful of singing cowboy pictures for 20th Century Fox. The partnership lasted until 1938, after which Ballew returned to private life, making only occasional post-war film appearances.
Panamint's Bad Man (1938, B&W): King Gorman's gang has a stranglehold on the stage line, and Marshall Larry Kimball's assignment is to put him out of business. Borrowing the recognizable belt buckle of notorious outlaw Black Jack Devers, Kimball assumes the criminal's identity and gains Gorman's trust. Now Kimball has to lure Gorman into a trap to arrest him before the real Black Jack Devers shows up and spoils the charade. Starring Smith Ballew, Evelyn Daw, Noah Beery, Sr., Harry Woods and Pat O'Brien; Directed by Ray Taylor; Screenplay Luci Ward and Charles Arthur Powell.
Western Gold (1937, B&W): While the bloody Civil War rages in the east, bandits are stealing the Union force's gold shipments as they pass through the untamed western frontier. President Lincoln decides that young soldier Bob Gibson is the perfect man to secure safe passage for the gold. Traveling to Wyoming, Gibson crosses paths with his childhood friend, Fred Foster. Unfortunately, the old friends have grown up on different sides of the law - the treacherous Foster is the man responsible for the holdups. Starring Smith Ballew, Heather Angel, LeRoy Mason and Howard Hickman; Directed by Howard Bretherton; Screenplay Earle Snell and Forrest Barnes.
Keywords:
Similar Products
Product Info
Sales Rank: 16,424
UPC: 089218513892
Shipping Weight: 0.25/lbs (approx)
International Shipping: 1 item