Tom Tyler Double Feature: Lost Ranch / Orphan of the Pecos
Tom Tyler rides the range in two classic cowboy adventures.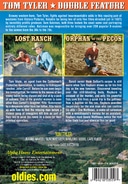 SALE:
$

5

.95
List Price:
$7.98
You Save:
$2.03 (25% Off)
Available:
Usually ships in 1-3 business days
More products that might interest you:
Classic Western Collection: 20 Full Color Vintage Movie Postcards (Movie Collectible)
$9.98
Related products:
DVD Features:
Rated: Not Rated
Run Time: 1 hours, 54 minutes
Video: Black & White
Released: May 29, 2007
Originally Released: 1937
Label: Alpha Video
Encoding: Region 0 (Worldwide)
Packaging: Keep Case
Aspect Ratio: Full Frame - 1.33
Performers, Cast and Crew:
Entertainment Reviews:
Description by OLDIES.com:
Brawny western hero, Tom Tyler, fights against insurmountable odds in this rousing pair of westerns from Victory Pictures. Notable for being two of only five films directed (all in 1937) by incredibly prolific producer, Sam Katzman, both films feature the exact same cast portraying entirely different roles. Katzman was responsible for bringing over 200 popular B-movies to the screen from the 30s to the 70s.
Lost Ranch (1937, B&W): Tom Wade, an agent from the Cattleman's Protective Association, is looking for kidnapped rancher, John Carroll. Before he can even begin his investigation, he comes to the rescue of two young ladies being chased and shot at by a pack of outlaws. One of the grateful women is none other than Carroll's daughter, Rita. Summoned by a desperate letter from her father, Rita teams up with Tom to find the missing man before a vicious gang of smugglers kill him as part of their bid to seize his ranch as a base for their criminal operation.
Orphan of the Pecos (1937, B&W): Ranch owner Hank Gelbart's corpse is still warm when Tom Rayburn shows up for his first day as the new foreman. Discovered kneeling over the still-bleeding body, Rayburn is accused of the murder, and only his powerful fists save him from a quick trip to the gallows. Now a fugitive on the run, Rayburn searches desperately for the one man who can confirm his alibi - Doc Matthews, a snake-oil salesman with a ventriloquist's dummy for an assistant. Rayburn must locate Matthews before the real killer finds him and silences him for good.
Keywords:
Similar Products
Product Info
Sales Rank: 43,389
UPC: 089218535597
Shipping Weight: 0.25/lbs (approx)
International Shipping: 1 item